This week's Sunday Journal post covers journaling about the New Year!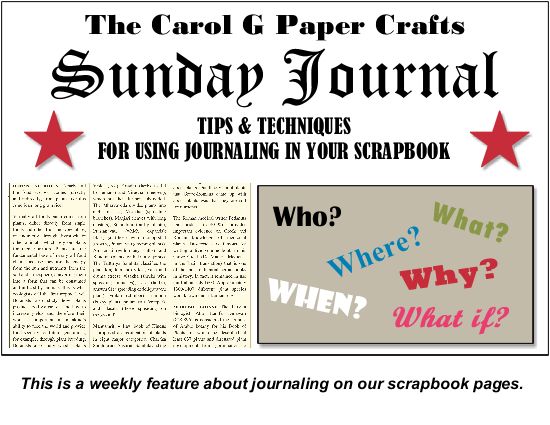 While many folks are uncomfortable about incorporating words or writing on a page, perhaps because they are not sure what to write, I find that words can be used to either embellish the story that the pictures tell, or to spark my creativity in coming up with a page that I want to create.
This is the time of year that causes many of us to spend a little time in reflection… we think about what has happened in the past year, or our lives in general… what the new year will bring… are we on track for what we planned for our lives?  what is coming up in the new year?  do we have any resolutions for the new year?
How can we use this info on a scrapbook page?  I'll explore this topic every Sunday during this month!  The first idea I suggest for journaling about the New Year involves an examination of what happened LAST year!
Here is this week's idea:  Try making a two-page spread that shows the highlights of the things that have happened during the past year.  You can organize it several ways, including things like:
major events (births, graduations, weddings, new tooth, new job, new home)
milestones reached (ran first 5K race)
your thoughts and feelings about some of the events
why these things are significant to you (I never thought I would live in such a lovely home!)
Your pictures or topic can be organized in different ways:
chronologically – for example, put them in order by month (but don't feel like you need to show something for every month… unless you WANT to!)
by person in the family (great things for Janey, and Michael, etc.)
by topic (vacations, home life, friends, pets)
You can tell the story in a variety of ways:
use a lot of little pictures to remind you of the events
you can use a series of your words or musings about the events
you can use a simple format, without much other embellishment, as there will likely be so many pictures on the page
you can divide the pages into sections for each topic by using pretty ribbon or strips of cardstock, or different colors of cardstock for each section
don't forget to put the year on the page!
If you like the results, consider doing a series of pages like this for other years and making a separate scrapbook out of them.  It can give you a great overview all in one place!  Because, if you think about how many scrapbooks you would (or will) have if you scrap all the pictures that you probably have, you could fill a whole bookshelf!  Having one book where you can see people grow and change, and see the major milestones and events of each year can give you a whole new perspective on things.
Amazing what you can come up with while journaling about the New Year!