Stumped for words when it comes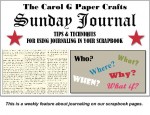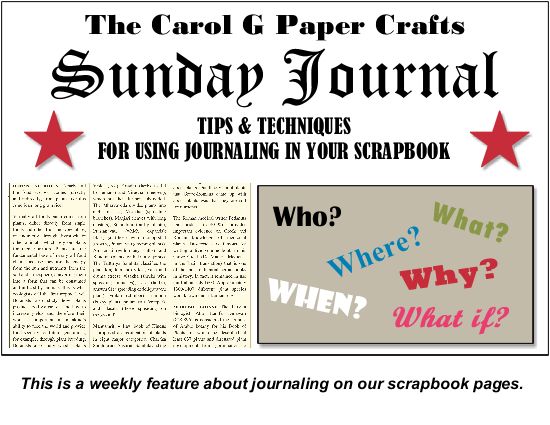 to scrapbook journaling?  Try using the newspaper journalist's 5 key questions to include relevant info on your scrapbook pages.
1. WHO: Record peoples' names – have you ever looked at those old family albums, with lots of pictures stuck on a page with little corner tabs?  Who are all those people? Are they related to you?  I wish my grandparents had written names on the pages!
2. WHAT: Tell what you were doing.  You'll be amused to remember, in future years, that you used to have a fun game of "chase the forklift" with your kids as you pushed the cart through the Home Depot store.
3. WHERE: Document where you were.  Is that beach picture from the trip to the New Jersey shore, or down at the Outer Banks?
4. WHEN: Include the date (or approximate date) of a photo to help tell some of the story.  Or reference it indirectly by indicating someone's age ("when Johnny was 5…")
5. WHY: Express how you were feeling.  Some pictures speak for themselves – you obviously look happy or excited.  But in other shots, it is a bit harder to tell how you feel about things.  Are you looking solemn because you're unhappy? Because your car broke down? Or because you've had such a fun day that you're now pretty tired?!
I'll explore some of these scrapbook journaling ideas in future posts of the weekly Sunday Journal.  Try some or all of these scrapbook journaling ideas and I bet you'll feel more related to your pages!