In this week's post for our Sunday Journal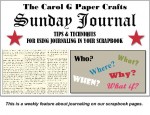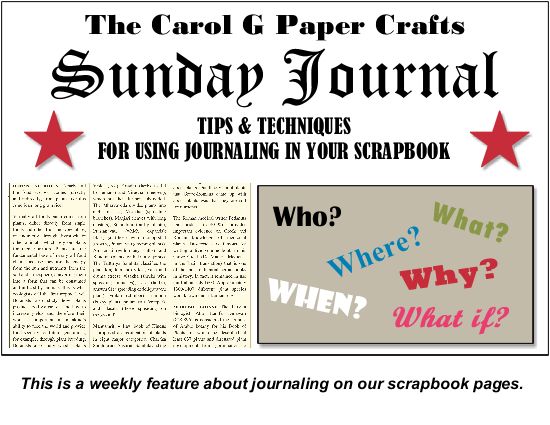 weekly series on Journaling for your scrapbooks, I'd like to talk about scrapbooking ideas or events where you don't have many pictures.  One way to include these in your scrapbook is to use your journaling as the focus of the page.  I'll even suggest a journaling topic that you can use as the basis for a scrapbook page : Long Summer Days When I Was a Kid.
How does this work?  Simply take the suggestion of the Journaling topic and write a paragraph (or longer, up to you!) about what summers were like when you were a kid.  Here's some suggested items you could include:
Summer camp
What I did All Day Long in the summer
How long a day seemed to last when I was little, compared to now
Places you liked to play
Friends from when you were little
My favorite ___________ (you pick it – favorite summer activity, place to go, game, kind of ice cream, whatever!)
Now make this writing the basis of your scrapbook page.  Add a headline (feel free to copy mine: Long Summer Days When I Was a Kid).  You can add a few pictures if you have them – but in all truth, we usually have so many fewer pictures of our childhood than we take today that using the journaling as the focus of the page solves that problem.  This will frequently be one of those pages that has a single picture, as opposed to being stuffed full of pictures!  The journaling frequently takes center stage.
Here's a page I made in My Digital Studio, starring some journaling about sitting around in the grass in my back yard.  I really wanted to share the image in my head that I had of doing this, with my kids.
I used a couple of features on this page that refer back to the time period in question – frankly, the very early sixties.  I chose to include:
old-fashioned looking background paper – geometrical patterns were very big back then, and quite frankly, they were a little garish
the hexagonal shape was very modern and daring for the time period – this was the beginning of the mod era
I added the notebook paper punch shape along the edge of the orange (ORANGE!) journaling square to add a little eye texture, and to subtly refer back to my school days
I placed a subtle wood grain overlay on the orange square – wood was an important element that was much used in those days
and even the font that I used could have come out of a typewriter, as opposed to a cleaner sans serif font that might be more popular today.
In this case, I took a picture of my own lawn to demonstrate what I was talking about in the journaling.  In next week's post, we'll talk about how to handle journaling where you don't have ANY pictures that match your journaling!
So, what do you remember about Summers When I Was a Kid?