Get MDS2 for 50% off for the next week and 20% off the Big Shot today only, during Stampin' Up! Online Extravaganza!  There are a variety of sales going on this week, so check out the details below and then go to my online store to take advantage of this generous discount!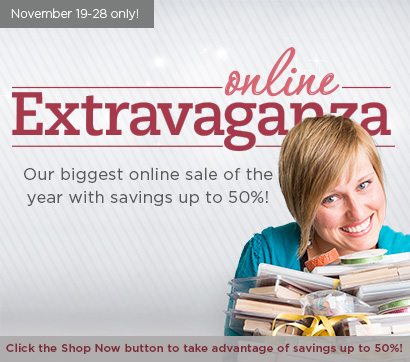 > MDS: If you haven't tried My Digital Studio yet, NOW is the time.  Get 50% discount on MDS2 or MDS2+ (with a TON of great digital content).  Or, if you already have My Digital Studio, you should upgrade the software to MDS2 for only $9.95… all for 50% off thru next Wednesday, 11/28!
> Big Shot: Several items, including the Big Shot Die-Cutting Machine (113439), and the Big Shot Doctor's Bag (113474) for carrying it, are 20% off TODAY, Monday 11/19 ONLY!
> Clear-mount rubber stampers: the Clear Block Bundle (Blocks A-I)(118491) and the Clear Block Storage Caddy (120279) are 20% off next Wednesday, 11/28 ONLY (and the Stack and Store Caddy (109127) as well).
> For traditional rubber stampers, there are TONS of items from 20% – 50% off during the next week, thru Wednesday 11/28. Check out the extensive list at my online store to place your order!
And, when you place an online order you can add other items that are either regular price, are MDS2 digital downloads, or order from the Clearance Rack!
Get MDS2 for 50% off for next week!