This is absolutely the best time to purchase the intuitive software  
My Digital Studio during Sale-A-Bration
!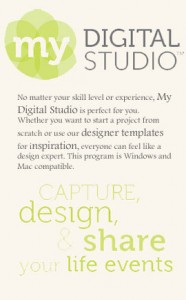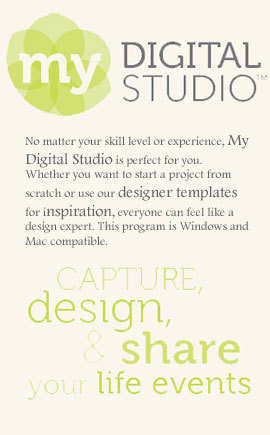 Let me show you how to maximize your savings.  As you may already know, for every $50 you spend on Stampin' Up! products you get an additional item from the SAB catalog for free!  Sale-A-Bration runs through March 31, 2012.
So let's see how that can work for you.  If you purchase My Digital Studio for $79.95, you will get one free item!  There are great stamp sets, paper, and fabric selections… Or, if you want to stick with digital design you can choose from two different sets of digital content on a CD for My Digital Studio:
Digital Option #1: One Big Sale-A-Bration CD (127220)
Select item 127220 as your free SAB product and you will receive a CD with ALL of the new, exclusive SAB content in digital format!  You get:
5 stamp brush sets
12 Designer Series Paper Patterns
6 ribbons
5 brads
Digital Option #2: Piece of Cake Ensemble CD (127222)
This is a CD with an entire digital kit for hosting a party, including invitation, greeting card, tag and various decor elements.  You get:
72 embellishments
1 punch
37-piece stamp brush set
You can get either of these digital CDs free when you purchase My Digital Studio before March 31, 2012.
Ah, now I can hear you thinking… if I get ONE free SAB product for every $50 I spend… and My Digital Studio costs $79.99… simple math tells me that I can spend only an additional $20.01 and get BOTH digital CDs for free!
Let's look at how you can do that.  You can of course purchase ANYTHING in the Stampin' Up! product line of rubber stamps, papers, ink pads, die cuts, embossing folders, embellishments, albums, and so on… but let's assume you are on a roll here with the digital design mode.  What are some options?
From the Occasions Mini Catalog, you can order the:
125615  Twitterpated Swatchbook Designer Template for $12.95.  You get the template for a 26-page swatchbook where you simply drop in your photos… and then you can print multiple books!
 125617 Sweet Shop Trifold Card Designer Template for $1.95.  You get the layout for a colorful trifold double-sided birthday card, ready to create multiple cards in a flash! and you can customize the colors and elements.  It coordinates with other Sweet Shop series products.
125590 Scented Stampin' Emboss Powder is not a digital product, but something fun you can use with the trifold card to make a delightful hybrid card… make the cupcake frosting on the card smell like vanilla!  $5.95.
So there you have it: My Digital Software for $79.95, plus $20.85 for the above items, gives you a total of  $100.80 and you get BOTH free SAB digital CDs!
And if you either purchase My Digital Studio from my online store, or try the free 30 day trial of My Digital Studio Express, you can sign up for my free 30 day support classes showing you how to get started!  Click here for more details.
To purchase My Digital Studio, visit my store here or click on "Shop Now" on the top right.  Woo hoo – let the digital designing begin with My Digital Studio during Sale-a-Bration!